1955-57 Ford T-Bird Fan & Shrouds (8 Options to choose from)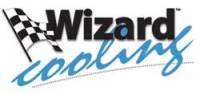 T-Bird Fan & Shrouds


Use the guide below to help make your selections at the blue arrows to determine the fan package that is right for your build.

Description
"CRITICAL THICKNESS"
Since you are looking for fan package it is imperative that you understand the space you have to work with between the shroud mounting flange on the radiator and the first point of interference at the engine (usually the water pump pulley). If you are buying this fan package at the same time you buying the radiator, keep in mind that the radiator is 3" thick (regardless of which core selected) The goal here is to fit in the thickest option you have room for. If we go too thin we risk not cooling enough, too thick….we risk creating an interference. Every little step up in thickness can make a big impact on performance without a huge impact on your wallet! So measure twice!
"PERFORMANCE RANKING"
If we have more than one result that populates for the CRITICAL THICKNESS that you selected the site will then prioritize the options by performance
"TOTAL CFM "
If you are looking for the BRUSHLESS fan option, select the highest CFM level